(Skip to the schnitzel recipe or the potato salad recipe.)
Just before Christmas, I took a trip to Germany, Austria, the Czech Republic and Slovakia. Town squares, that time of year, are magical places. Christmas markets abound, the smell of mulled wine and grilling meat saturating the air.
Aside from trying to sample the rich multitude of sausages, at the top of the list was to have an authentic, Viennese schnitzel. Vienna did not disappoint but the potato salad that came with it, a central part of the experience, was revelatory.
Instead of being made with mayonnaise, the potato salad served with schnitzel is made with oil – vegetable, canola or another relatively flavorless oil. The cut potatoes are also soaked in beef broth and vinegar, mixed in with a bit of mustard.
Being a German potato salad, other versions add cooked bacon, and the bacon fat in addition to oil. I've stuck with mustard, vinegar and vegetable oil.
Salty, tangy, cut with a little lemon juice, the combination is a perfect addition to the weekday rotation and doubles as a great meal to serve guests to a small dinner party.
It can also be fun for kids, as the meat (chicken, veal, pork, mutton) needs to be thoroughly pounded until thin before being pan fried. I use the back of a Chinese butcher's knife (extra wide for tenderizing) to pound the meat thin.
In Vienna, the schnitzel was somewhat puffy and most recipes call for using breadcrumbs, either store bought, or with multi-page instructions to turn stale bread into breadcrumbs. Often times referred to as "wiener schnitzel," it's a reference to schnitzel made in Vienna ("Wien" in German).
At home, I use panko (a type of Japanese breadcrumbs readily available at the grocery store) and season the meat with lemon pepper and a little garlic salt.
Many recipes also call for filling a Dutch oven or similar vessel with oil to deep fry, or nearly deep fry, the schnitzel. Instead, I pan fry in a cast iron skillet. Perhaps the most important thing to understand when cooking the schnitzel, especially with pork or veal, is to not overcook it. Nothing quite beats a juicy bite of a perfectly seasoned pork schnitzel, especially with a little lemon on top. I slice a lemon thin, then chop those slices, to eat the rind with the schnitzel.
Making the schnitzel itself is pretty easy. Pound the meat thin, dredge in flour, in egg, in panko, and pan fry.
The potato salad takes a little bit longer, with some resting time, it is also pretty easy. Plus, you can add the potato salad to the roster of things to bring to barbeques when the summer hits.
One of the most popular variations is the Jägerschnitzel, or hunter's schnitzel. In this version, the fried meat cutlet is covered with a mushroom gravy. Covering schnitzel with sauce is a thing – the problematically named Zigeunerschnitzel, or "Gypsy" schnitzel, with a tomato, bell pepper and onion sauce, while in Munich, it's covered in horseradish and sweet mustard. I also found a thick beef gulash (essentially a red-wine based beef stew) also works as a great topping sauce.
Getting really fancy is the schnitzel cordon bleu, with slices of ham and cheese stuffed inside the meat.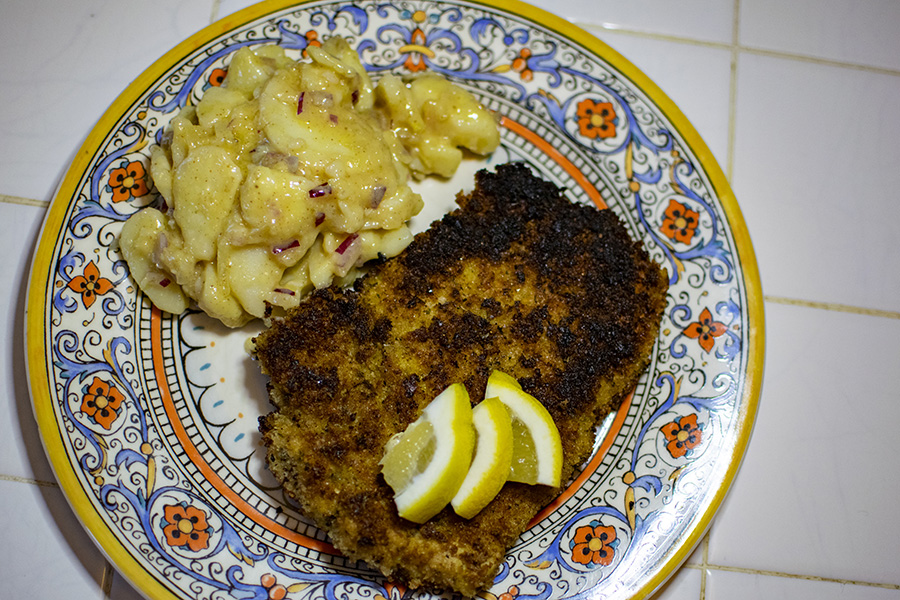 Schnitzel
Ingredients
4 small boneless pork chops, steaks or chicken breasts
Salt and pepper
Lemon pepper
Garlic salt
½ cup flour
2 large eggs, beaten
¾ cup panko or breadcrumbs
Oil for pan frying
Lemon slices or wedges for garnish
Directions
Pound the meat cutlets until thin, about ¼ of an inch thick. Lightly season the meat with lemon pepper if desired.
Cut lemon into slices or wedges for serving.
Mix in a little salt (garlic or otherwise) and lemon pepper into the flour. Separate the eggs, flour and bread crumbs into three shallow bowls.
Heat the oil in a medium to large skillet over medium heat.
Dredge a chop first in the flour, then in the egg, and then in the panko.
Put the chop into the pan and lightly pan fry, 2-3 minutes on each side, until golden brown. Try not to overcook.
Serve with the potato salad and lemon slices/wedges.
German potato salad
Ingredients
3 pounds Yukon Gold or white potatoes
1 white or yellow onion, chopped
½ red onion, chopped
1 ½ cups beef broth (or bullion)
½ cup white vinegar
Salt to taste
1 ½ tablespoons spicy mustard
1/3 cup oil
Directions
Boil the potatoes in their skins until tender, or pressure cook for 2 minutes.
Allow the potatoes to cool and then, if desired, peel. Slice the potatoes into ¼ inch slices. Put the slices in a large bowl.
In a saucepan, add the beef broth, vinegar, chopped white or yellow onion, mix, and bring to a boil. Once it boils, remove from heat, then pour over the potatoes and mix a couple of times.
Allow the potatoes to sit in the broth for an hour.
Stir in the oil and lightly salt to taste or, refrigerate and serve and salt the following day for better flavor.