This dish should be accompanied by German potato salad. Recipe here or below.
Ingredients
4 small boneless pork chops, steaks or chicken breasts
Salt and pepper
Lemon pepper
Garlic salt
½ cup flour
2 large eggs, beaten
¾ cup panko or breadcrumbs
Oil for pan frying
Lemon slices or wedges for garnish
Directions
Pound the meat cutlets until thin, about ¼ of an inch thick. Lightly season the meat with lemon pepper if desired.
Cut lemon into slices or wedges for serving.
Mix in a little salt (garlic or otherwise) and lemon pepper into the flour. Separate the eggs, flour and bread crumbs into three shallow bowls.
Heat the oil in a medium to large skillet over medium heat.
Dredge a chop first in the flour, then in the egg, and then in the panko.
Put the chop into the pan and lightly pan fry, 2-3 minutes on each side, until golden brown. Try not to overcook.
Serve with the potato salad and lemon slices/wedges.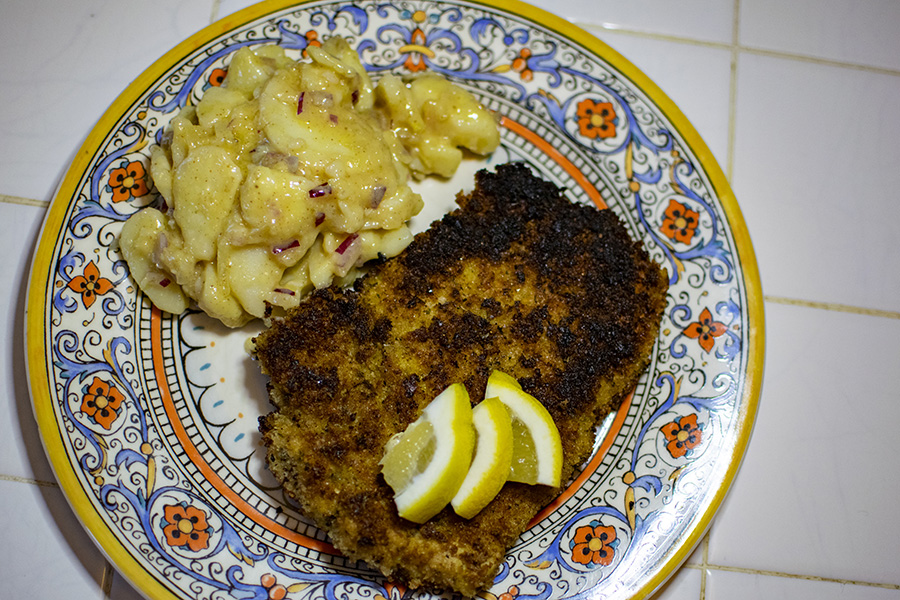 German potato salad
Ingredients
3 pounds Yukon Gold or white potatoes
1 white or yellow onion, chopped
½ red onion, chopped
1 ½ cups beef broth (or bullion)
½ cup white vinegar
Salt to taste
1 ½ tablespoons spicy mustard
1/3 cup oil
Directions
Boil the potatoes in their skins until tender, or pressure cook for 2 minutes.
Allow the potatoes to cool and then, if desired, peel. Slice the potatoes into ¼ inch slices. Put the slices in a large bowl.
In a saucepan, add the beef broth, vinegar, chopped white or yellow onion, mix, and bring to a boil. Once it boils, remove from heat, then pour over the potatoes and mix a couple of times.
Allow the potatoes to sit in the broth for an hour.
Stir in the oil and lightly salt to taste or, refrigerate and serve and salt the following day for better flavor.